Palaces and Temples in Bangkok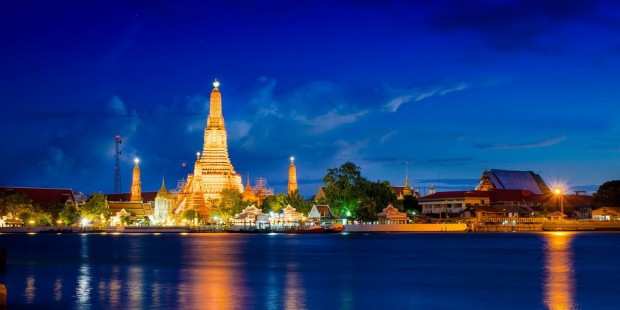 Grand Palace & The temple of the Emerald Buddha
Grand Palace is the place that "must visit". It was built in 1782 A.D. at the same time that Bangkok was founded by King Rama I. Although no royal family live here anymore, Grand Palace is still the symbol of Monarch of Thailand.
Part of the Grand Palace also situated the temple of The Emerald Buddha (Wat Phra Kaew), the royal temple that enshrines the most sacred Buddha Image in this country, The Emerald Buddha. Inside and around the place you can see many buildings with elegance and stunning Thai style decorations.
In The Grand Palace compound, there are throne halls and buildings that still used for ceremonial purposes nowadays. Especially Chakri Maha Prasat Throne Hall, the beautiful throne hall that built by King Rama V in Thai-European combination architectural style.
Wat Pho
The Temple of The Reclining Buddha (commonly known as Wat Pho) located at the south of the Grand Palace. In the temple housed the 3rd biggest Reclining Buddha but the most beautiful one in Thailand.
Other attractions in Wat Pho are "4 chedis" built in honor of first 4 kings of Bangkok. The chapel enshrines the principal Buddha image that contained the ashes of King Rama I, the first king of Bangkok who renovated this temple when he founded Bangkok.
Wat Pho was so called "the first public university" because King Rama III intended to collect knowledge for people. Even nowadays, there is still situated Thai traditional massage school which anyone can take course and get diploma from here. There's also massage parlour for visitors.
Wat Arun (Temple of Dawn)
Wat Arun is one of the first class ranking of royal temples, located on the bank of Chaophraya River. Wat Arun became one of the most visited tourist attractions.
The Pagoda (Prang in Thai) of Wat Arun or Temple of Dawn is one of the famous landmarks of Thailand. Influenced by Khmer-style, the 67-meter-tall pagoda is made of cement and decorated by million pieces of Chinese porcelains.
Wat Arun was a part in the Royal Barge Procession as the royal temple where the king would travel by river to deliver new robes to the monks at the end of the Buddhist Lent period.